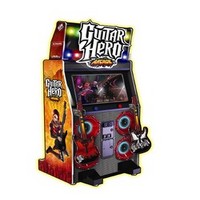 The popular home console title - "Guitar Hero" has come to arcade market. Guitar Hero Arcade is developed by Raw Thrills, Konami & Activision. It is based upon "Guitar Hero III: Legends of Rock" but has still taken influences from just-released World Tour.

Another important feature that has remained is downloadable content. Developer has the ability to push new songs to "Guitar Hero Arcade" through the Internet. Owners of the machines can pick and choose which of the new songs to add to the cabinet.

Please feel free contact us at sales@channelbeat.com for any questions.