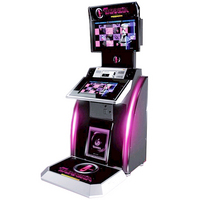 DJ Max Technika is the hottst arcade beatmania type music machine in Korea.It features full-motion video in the background and lets you tap into an emotional sound experience with music by Korean artists.

The cabinet features two displays, a 22″ touch-sensitive display for the player to operate, while a larger 32-incher lets the audience follow the action. Built-in lights and bass-heavy speakers help build the illusion you're a DJ creating a catchy tune.

Please feel free contact us at sales@channelbeat.com for any questions.