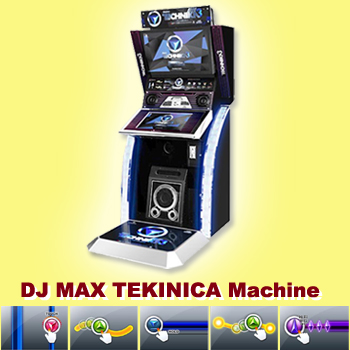 ** DJ Max Technika Video Arcade Game

**$1895usd per set

** stock for immediately shipment

** used reconditoned machine



DJ Max Technika Video Arcade Game is a crew challenge studio model in the DJ game series, very popular in various market.



Features:

* with platinum crew online service

* online scoreboards

* max point shop reward system

* in depth & personalized unlock system

* rival player & team based play functions

* mission mode with frequent updates

* customizable play experience

* regular content updates via platinum crew

* \"crew race\" team based ranking

* features over 160 songs including tracks from previous titles, the portable franchise, and licensed tracks from smash hit Korean girl group KARA.

* the huge amount of content in this game is a first for the DJ MAX franchise and is sure to keep players happy with all of the new tracks, charts, and courses featured in the game!



Please feel free contact us at sales@channelbeat.com for any questions.