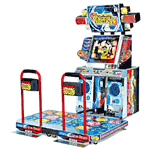 TECHNO MOTION is a sort of dancing simulation game machine currently winning high popularity at amusement game centers every where.
It performs rhythemic tunes in impulsive beat to which players would aptly stomp to the beat on the stepping platform as instructed by the step signs.
Presented in the sumptuous dedicated cabinet, Techno Motion proved its game concept and the hardware go together perfectly to the buoyant play mood it incites.


Likes most of the dancing mahcines, players control the game with their feet. Techno Motion allowed players to select cross or diagonal step panel mode and shift step panel mode during the play. Its also offers multiple play modes like "extra mode", "expert mode", etc.

Moreover, this game is able to compete with another player on another Techno Motion machine if netted.

Other details:
-Able to up-grade promptly through the network.
----Employs Celleron 433MHz CPU realized high performance dance simulation.
----Employs Voodoo III 3000 satisfactorily supports high quality graphics.
----Employs Sound Blaster and 4-channel independent surround sound system.
----Offers easy installation and relocation by quick-erect structural provision.

Machines For Sale
TECHNO MOTION KOR VER
Techno Motion allowed players to select cross or diagonal step panel mode
and shift step panel mode during the play.



Location:
Availability:
Korea
4-6 weeks

$2290.00 USD
---
Showing : 1 - 1 of 1 | 1 - 1
# A B C D E F G H I J K L M N O P Q R S T U V W X Y Z