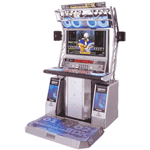 The year 1997 saw the phenomenon that is Beat Mania begin in its country of origin, Japan. The game gives everyone a chance to be a DJ, from humble beginners to experts alike, letting them add their own sounds to background music.
..


The player controls the game using five buttons and a turntable. After choosing a song to play in the background, the players is prompted to enter new sounds into the music track. The challenge is that these sounds have to be entered in at exactly the right time.

When the game begins, notes begin to fall toward a bar at the bottom of the screen. As each note touches the bar, the player must press the corresponding button on the control panel. The bar will often flash, indicating that the player should move the turntable. As with all music games, timing is the key: if a player misses too many commands, the game will be over.

Machines For Sale
BEATMANIA 2ND MIX ENG VER
The DJ craze hits the arcade big time with Beat Mania. Players use 5 keys/buttons and a turntable to crank out techno mayhem.



Location:
Availability:
Hong Kong
Please Ask

Please Ask
---
BEATMANIA 3RD MIX ENG VER
There are 13 new released songs has been added in the Beatmania 3rd mix. For the modes, it contains: "EXPERT MODE", "DOUBLE PLAY", "HIDDEN PLAY", "MIRROR PLAY" and "RANDOM PLAY".



Location:
Availability:
Hong Kong
Please Ask

Please Ask
---
BEATMANIA 4TH MIX JAP VER
The new things in Beatmania 4th mix is that players are able to change the screen frame colour by pressing the START button during MODE SELECTE section.



Location:
Availability:
Japan
4-6 weeks

$1175.00 USD
---
BEATMANIA 6TH MIX ENG VER
Beatmania 6th Mix adopts the latest songs of current popular UK club artists, featuring a wide range of difficulties.



Location:
Availability:
Hong Kong
Please Ask

Please Ask
---
BEATMANIA 6TH MIX JAP VER
Beatmania 6th Mix adopts the latest songs of current popular UK club artists, featuring a wide range of difficulties.



Location:
Availability:
Japan
4-6 weeks

$1390.00 USD
---
BEATMANIA 7TH MIX JAPAN VERSION
The DJ craze hits the arcade big time with Beat Mania. Players use 5 keys/buttons and a turntable to crank out techno mayhem.



Location:
Availability:
Japan
Stock

$1995.00 USD
---
---
---
BEATMANIA COMPLETE MIX JAP VER
Beatmania complete mix is a summary of the Beatmania machine 1st mix, to 3rd mix. Combine all the popular songs and modes, this is what you need to try if you have miss the versions above.



Location:
Availability:
Japan
4-6 weeks

$495.00 USD
---
BEATMANIA CORE REMIX ENG VER
The DJ craze hits the arcade big time with Beat Mania. Players use 5 keys/buttons and a turntable to crank out techno mayhem.



Location:
Availability:
Japan
4-6 weeks

$1195.00 USD
---
BEATMANIA II DX 10TH STYLE
Beatmania II DX 10th adopts the latest popular songs and the classic songs in all versions. Featuring a wide range of difficulty.

Please Ask
---
BEATMANIA II DX 11TH STYLE RED
Konami's popular DJ simulation game is back and better than ever!

- Over 320 songs available for play
- Over 45 new songs
- Weekly Ranking from 9th Style returns
- E-Amuse system upgrade
- Songs from Pop'n Music and Guitar Freaks/Drummania will be included.



Location:
Availability:
Japan
4-6 weeks

Please Ask
---
BEATMANIA II DX 12TH HAPPY SKY
Totally 350 songs while more than 45 songs are brand new compare to II DX 11th.



Location:
Availability:
Japan
4-6 weeks

$9950.00 USD
---
BEATMANIA II DX 13TH DISTORTED
This version includes more than 400 songs and more than 45 of them are new. The modes are Beginner, Standard, 5 Keys, Expert, Practice or Free mode.



Location:
Availability:
Japan
2-4 Weeks

Please Ask
---
BEATMANIA II DX 14TH GOLD
Beatmania II DX 14th Gold is the 14th rhythm video game of beatmania II DX series, features in over 45 new songs, and supports with more powerful hardware using Windows XP Embedded as its operating system.



Location:
Availability:
Japan
2-4 Weeks

Please Ask
---
BEATMANIA II DX 15TH DJ TROOPERS
Beatmania II DX 15: DJ Troopers is the 15 th music video game from beatmania IIDX series, features with more than 50 new song and design in a military themed style, including rustic greens, grays, and camouflage patterns.



Location:
Availability:
Japan
2-4 Weeks

Please Ask
---
BEATMANIA II DX 16TH EMPRESS
Beatmania II DX 16th Empress is the 16 th music video game from beatmania IIDX series, features with more than 50 new song and design in empress's interface based on a pink color scheme, dominated by sparkles, butterfly wings, and motifs of royalty and jewellery.



Location:
Availability:
Japan
2-4 Weeks

Please Ask
---
BEATMANIA II DX 17TH SIRIUS
Beatmania IIDX 17: Sirius is the 17 th music video game from beatmania IIDX series, features with more than 20 new song and added two extra note types "charge notes" and "back spin scratch".



Location:
Availability:
Japan
2-4 Weeks

Please Ask
---
BEATMANIA II DX 18TH RESORT ANTHEM
Beatmania IIDX 18th Resort Anthem is the 18 th music video game from beatmania IIDX series, features with more than 73 new song, and total over 640 songs, that designs in a tropical resort theme.



Location:
Availability:
Japan
2-4 Weeks

Please Ask
---
BEATMANIA II DX 19TH LINCLE
Beatmania II DX 19: Lincle is the latest version of Beatmania IIDX series released by year 2011, features with more than 50 new song, and total over 700 songs.



Location:
Availability:
Japan
2-4 Weeks

Please Ask
---
BEATMANIA II DX 2ND STYLE ENG VER
A subwoofer has added on to the Beatmania IIDX 2nd, players will find a large subwoofer under the players' feet sends the game's music vibrating throughout your whole body!



Location:
Availability:
Hong Kong
Please Ask

Please Ask
---
BEATMANIA II DX 3RD STYLE ENG VER
In Beatmania IIDX 3rd, players will find a large subwoofer under the players' feet sends the game's music vibrating throughout your whole body!



Location:
Availability:
Hong Kong
1-2 Days

$5988.21 USD
---
BEATMANIA II DX 4TH STYLE
The 4th version from Beatmania II DX series. With more new songs and excited moves to challenge all players.

Please Ask
---
BEATMANIA II DX 5TH STYLE ENG VER
In Beatmania II DX 5th, a multiple options can be selected before your game begins, which will affect gameplay in various ways.



Location:
Availability:
Hong Kong
1-2 Days

$6995.00 USD
---
BEATMANIA II DX 5TH STYLE JAP VER
In Beatmania II DX 5th, a multiple options can be selected before your game begins, which will affect gameplay in various ways.



Location:
Availability:
Japan
4-6 weeks

$7500.00 USD
---
Showing : 1 - 25 of 41 |
1 - 25 |
26 - 41